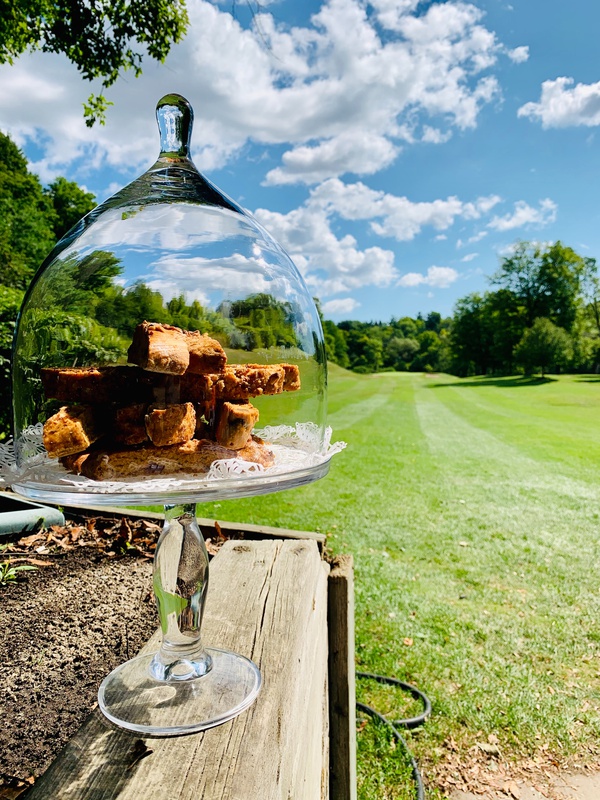 Chocolate Orange Biscotti
Hello readers!
This week I wanted to share another special recipe. I absolutely love to cook and try new recipes for our breakfasts here at The Spring Lighthouse. But I also like to make special treats for our guests to snack on as they come and go throughout the day. One of my latest favorites has been a chocolate orange biscotti. It is absolutely delicious by itself, or dipped in tea or coffee.
A must for me with all of my recipes is that it is not only delicious but easy. Let me assure you this recipe is both.
The Recipe is as follows:
Chocolate Orange Biscotti
Ingredients
2 ½ cups all purpose flour
2 tsp baking powder
¼ tsp salt
½ cup butter (one stick) softened
1 cup granulated sugar
2 Tbsp orange zest
2 Tbsp orange juice
2 eggs
½ tsp vanilla
1 egg white
8 oz. dark chocolate, cut into chunks
Instructions
Preheat oven to 325 degrees

In a small bowl, mix together the flour, baking powder, and salt; set aside.

In a large mixing bowl, beat together butter, sugar, and orange zest until fluffy. Add in orange juice, eggs, and vanilla. Beat until well combined. Add flour mixture to butter mixture in 2 additions, mixing until just combined.

Divide the dough in half. On a lightly floured surface, roll each into a 12x5-inch rectangle, and place each rectangle 2 inches apart on a parchment-lined baking sheet.

Combine egg white with 1 tsp water and liberally brush over the top of biscotti.
Bake for about 30 minutes until lightly golden and just firm to touch. Let cool on a pan for 10 minutes.

Transfer logs to a cutting board. Using a chef's knife, cut diagonally (at about a 45 degree angle) into ½ -inch slices. Stand each piece upright and place back on the sheet.

Melt chocolate in microwave-safe dish for 2 minutes, stirring after 30 second increments to prevent the chocolate from burning. Either dip or spread the chocolate over each biscotti.
Place back on the baking sheet and refrigerate until set, about 20 minutes.

Store in an airtight container in the fridge, to keep the chocolate firm. Leaving them at room temperature will yield a softer chocolate.
Enjoy! If you make them please let me know how it turns out! Or you can always make a special request for any on my recipes when you make your reservations to stay with us.
Share on Facebook
---