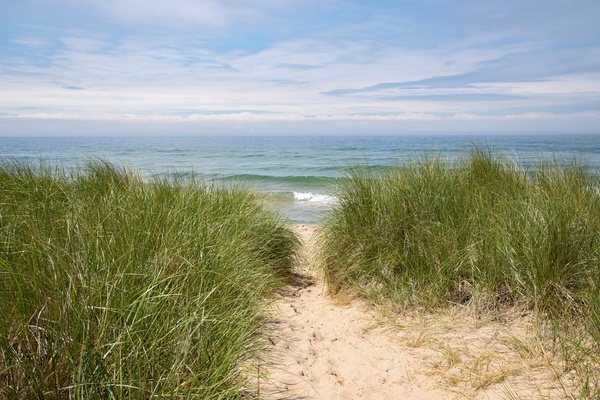 Local Highlights: The Beach
They say Minnesota is the "Land of 10,000 Lakes", but in Michigan you are never more than a few minutes from water. Here at the Spring Lighthouse, we have water right outside our door. Our beautiful home is located on the east bay of Lake Michigan. And while our beach at the house is best for relaxing and listening to the waves, there are many close locations to enjoy swimming, sunbathing, and exploring.
One of the best kept "secret" beaches is called The Dam Beach. It might not be so "secret" anymore, but if you want to enjoy a beautiful sandy beach, deep blue water for swimming and snorkeling, or just a peaceful spot to sunbathe with the locals, this beach is the one for you
The beach is located behind the dam in Elk Rapids (hence the name), with ample parking and only a short walk through the sand to the beach. If you feel like walking a little extra you can follow the concrete path that goes around the parking lot and enjoy a beautiful view of Elk Rapids Marina. The water level is higher and there is no play area for children which makes this beach quieter and more relaxing.
We love our little town and will continue to fill you in on the best kept secrets of our area. We want you to enjoy your time here as much as we enjoy living here. Follow for more, and don't forget to reserve your room so you too can enjoy all that Northern Michigan has to offer.
Share on Facebook
---