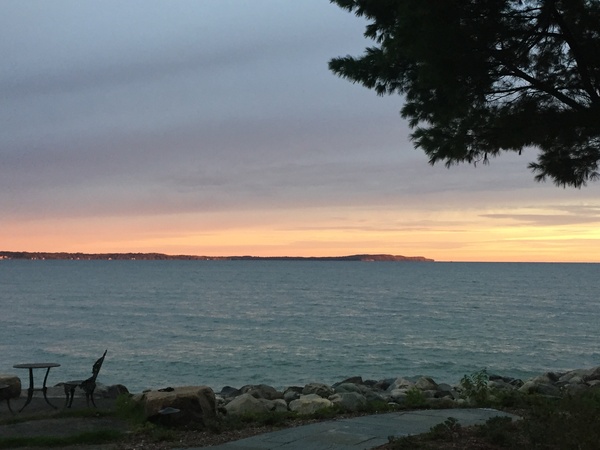 Late nights and Early mornings
I am a night owl. No two ways about that. I love the quiet hours when everyone else is in bed. I get so much work done on my computer: blog posts, social media posts, advertising, accounting, the occasional chance to watch my son stream video games. Yes, I am an avid video gamer.
Unfortunately or fortunately, however you want to look at it, this job demands early mornings. Truthfully, I love the early morning hours too. The beauty of the sunrise shining on Old Mission Peninsula is a sight to behold. And then its time to make the doughnuts.
It's 1:30 am and I am writing this blog, thinking of my menu for breakfast tomorrow. I am thinking Apple Almond French Toast with sausage and Strawberry Soup for my starter. That works.
Tomorrow promises the normal obligations of Innkeeping and a few added items to boot. We will have to make and serve breakfast, send our guests back home with a cheery smile and wish for their return. Then upstairs to completely clean and turn the rooms. We have a photographer coming in tomorrow to take pictures of all the common areas so they must be picture perfect by 11 am or so. Then we have laundry, prep cooking, yard work, cleaning our own space, putting together snacks for our social hour in the afternoon and fixing dinner.
The evening will most likely find me right back here at my computer typing away and keeping touch with all my friends, guests and potential guests out there in cyber land.
I think I should call it a night.
Thanks for reading.
Share on Facebook
---